Shell Chimes, Ornaments, Wall Decor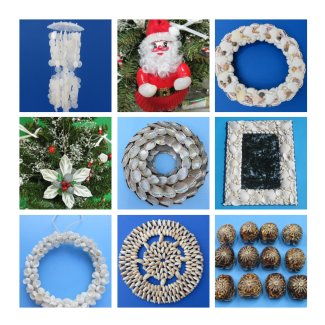 Enjoy the beauty of nature by bringing the seashore into your home with all kinds of beautiful seashell ornaments for a beach Christmas tree, including shell angels, shell flowers, seashell snowmen and shell santa ornaments, seashell wind chimes, including capiz shell chimes and large spiral sea shell chimes, tiny white or purple shell wreaths, white seashell mirrors, wood framed fox shells, lambis shells or framed scallop shell wall decor and more.
Shop here and save! All items are priced way below retail. We are importers so there is no middleman here!