Zebra Skin Rug, Zebra Hide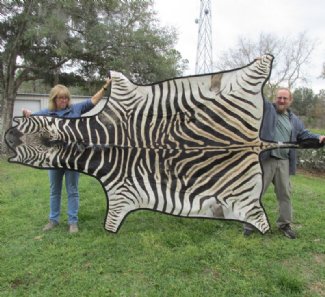 Beautiful Authentic Zebra Skin Rugs, Zebra Hide Rug, (Equus burchelli) with black felt backing. Choose from hides with either black stripes or dark brown stripes against tan or cream colored fur. We carry Grades A, B and C. Each individual Zebra has unique markings and act in a similar fashion to fingerprints in humans. The southern Burchell's Zebra has distinctive shadow brown stripes in the white stripes.
These zebra skin rugs can only be shipped within the U.S.